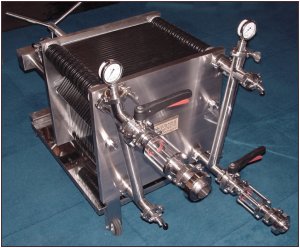 FILTRUS is a Bavarian Plate Sheet Filter that is made by the specifications of Filtrox (Switzerland), and is applicable wherever high polishing of beer is required.
This simple design plate sheet filter may come with 10 to 30 plates depending on the batch size. Larger chassis allows up to 90 plates. They cost of these filters is significantly less then D.E. filters.

It comes standard with the manifold pipes and 10 plates. Pressure gauges, a sampling valves, butterfly valves and sight glasses to observe beer clarity at the input and the output sides are optional.

Filtrus plate filters optionally come with double pass set-up, allowing to use rougher sheets in the first pass and finer sheets in the second. It can be used also as a single pass filter. It accomodates all standard filter sheets available on the market.

SPECIFICATIONS
Frame Material: All stainless steel 304
Filter Area: 0.16 sq.meter per plate
Max. Operating Pressure: 4 bar (60 psi)
Plate Material: Plastic (made by Filtrox)
Plate Size: 40x40 cm
Odor & Taste: Neutral
Gasket Material: Silicon Rubber
Sampling Valve: sanitary
Inlet/Outlet: 1.5" Tri-Clover.
All Connections are Tri-Clover
Dimensions: 17"x24"x(30-50)"
Weight: 170-190 lbs