IS BEER REALLY HEALTHY?
Please consider that all statements about the positive effects of beer are always based on the assumption that it is consumed in moderation.
The phenolic substances originating mostly from the malt intercept free radicals in the body, which may be carcinogenic: this is the reason why beer has the same positive effect as red wine.
Because of the fact that the beer is rich in potassium and low in sodium, it has a diuretic effect. Also, because beer is low in calcium and rich in magnesium, it is prophylactic against heart diseases and formation of gallstones and kidney stones.
The fruit acids of the beer make digestion easy. L-lactate, which is a lactic acid in the beer, has a beneficial effect on intestinal flora.
Carbon dioxide in the beer promotes salivation, stimulates formation of hydrchloric acid in the stomach and help separation of waste matters that are usually eliminated in the urine.
Polyphenols in beer are effective against cardiovascular diseases and cancer.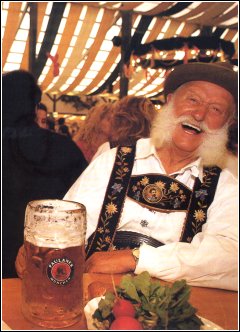 One happy beer lover