A POT BELLY?
Professor Dr. Joseph Keul of the Department ofRehabilitative and Preventive Sports Medicine, University Clinic of Freiburg,Germany wrote, that "the scientific findings did away with a number ofprejudices" related to beer consumption. Apparently, the habit of eatingvery fatty food combined with high beer consumption a century ago leadto the belief that beer causes overweight body.
He pointed out, however, that"numerous studies have shown that body weight does not change when beeris consumed in moderation: with constant energy intake, it might evendrop in many instances".
According to the Professor,"moderate alcohol consumption also results in a different composition ofthe body, namely, to a reduced fat portion, because alcohol has a reducingeffect on lipometabolism. In addition, beneficial effects on fat and sugarmetabolism, blood coagulation and blood pressure regulation have been describedin recent publications".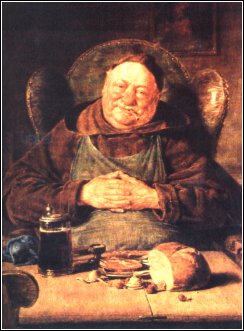 Satisfied monk
painting by Eduard Gruetzer