A POT BELLY?
Professor Dr. Joseph Keul of the Department of Rehabilitative and Preventive Sports Medicine, University Clinic of Freiburg, Germany wrote, that "the scientific findings did away with a number of prejudices" related to beer consumption. Apparently, the habit of eating very fatty food combined with high beer consumption a century ago lead to the belief that beer causes overweight body.
He pointed out, however, that "numerous studies have shown that body weight does not change when beer is consumed in moderation: with constant energy intake, it might even drop in many instances".
According to the Professor, "moderate alcohol consumption also results in a different composition of the body, namely, to a reduced fat portion, because alcohol has a reducing effect on lipometabolism. In addition, beneficial effects on fat and sugar metabolism, blood coagulation and blood pressure regulation have been described in recent publications".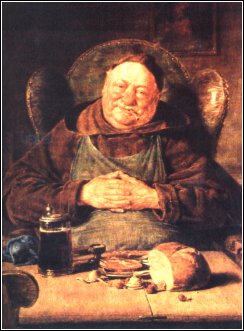 Satisfied monk
painting by Eduard Gruetzer